Hundreds of years ago, under cover of darkness. Shrouded in secrecy. Breaking the law.
This is what human biological science used to look like. Once upon a time, seekers of knowledge in the natural world (Leonardo Da Vinci among them) risked their careers and lives digging up cadavers to peek inside them and try to discern how the human body functions. At the time, this act was seen as a violation of human dignity, immoral, and, of course, illegal.
That was then. This is now: biologists are once again caught in a moral dilemma that threatens their science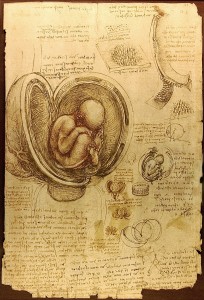 and puts them under constant legal crossfire. While the dissection of a dead, thus de-souled, human body is no longer viewed as a scientific travesty, the disassembly of human embryos has for years been generating enormous controversy for researchers, politicians, and the public.
In 2001, President Bush signed a law restricting the use of federal funding for embryonic stem cell (ESC) research to cell lines that had already been extracted from unwanted IVF (in vitro fertilization) embryos in fertility clinics. In March 2009, President Obama issued an order destrictifying Bush's policy so that new embryo lines could be opened up to researchers. But in August 2010, a federal judge made a preliminary ruling against the more lenient policy in court, citing a 1996 ban on federal funding for any project that destroys human embryos. And this May, a federal appeals panel overturned the judge's temporary injunction restricting federal funds from being used while the judge makes a final ruling.... more