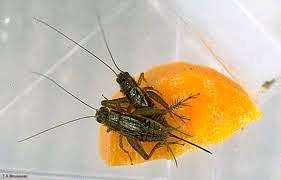 Julie's research subjects, southern ground crickets (Allonemobius socius)
For most of her life, Julie Reynolds has been fascinated by insects, and when she went off to college, she thought they would make a great subject of study. Julie majored in biological sciences at the University of Alabama-Huntsville and focused on ecology. Her undergraduate research examined the effects of microgravity stressors on crustaceans, and through these studies she became fascinated with the ability of animals to adapt to extreme environments.
Excited by these studies, Julie entered a master's . . . → Read More: Think it's cold outside? How do insects survive the winter?