Topics

About Science & Faith
Apologetics
Archaeology
& Anthropology
Astronomy
& Cosmology
Bible & Science
Creation & Evolution
Education
Environment
Ethics
Historical Studies
Mathematics
Origin of Life
Philosophy
Physical Science
Psychology &
Neuroscience
Science &
Technology Ministry
Teaching & Research
Worldview
Whole-Person Education
Youth Page


Publications

JASA/PSCF

Articles
Book Reviews

ASA/CSCA
Newsletter

Johannes Kepler [1571-1630]
Astronomy/Laws
of Planetary Motion
"I had the intention of
becoming a theologian
...but now I see how God is,
by my endeavors, also
glorified in astronomy,
for 'the heavens declare the
glory of God.'"

"I am a Christian...I believe...
only and alone in the service
of Jesus Christ...In Him is
all refuge, all solace."
"Let my name perish if only
the name of God the Father
is thereby elevated."
"[God] is the kind Creator
who brought forth nature
out of nothing."
----------------
Sir Isaac Newton [1642-1727]
Mathematician, Physicist
Inventor of calculus, Law
of universal gravitation
Newton's three laws of
motion

"There are more sure
marks of authenticity in the
Bible than in any profane
history."

" This thing [a scale model
of our solar system] is but a
puny imitation of a much
grander system whose laws
you know, and I am not able
to convince you that this
mere toy is without a
designer and maker; yet you,
as an atheist, profess to
believe that the great original
from which the design is
taken has come into being
without either designer or
maker! Now tell me by what
sort of reasoning do you
reach such an incongruous
conclusion?"
--------------
Wernher Von Braun
[1912-1977]; first Director
of NASA, pioneer of space
exploration.

"Scientific concepts exist
only in the minds of men.
Behind these concepts lies
the reality which is being
revealed to us, but only by
the grace of God."
-------------------------
Louis Pasteur [1822-1895]
Father of Microbiology,
developed "pasteurization

"The more I study nature,
the more I stand
amazed at the work
of the Creator."

"Science brings men nearer
to God."
---------------------
Dan Eumurian [1996]
"Where have you been,
Lord Random, my son?
Where have you been,
my brilliant young man?
I have learned math
and science; to me
they both sing
Of the infinite glory of
God, our wise King."
-------------------------------
Youth Page
To our younger readers:
This is your page - one designed to encourage young Christians to develop their
interests in the natural world - perhaps to consider a career in science, mathematics,
medicine or engineering and relate science to your Christian faith. Teachers or
parents are welcome to take a peek.
First, a word from a Texas teacher who began her path to science in high school.
Read her article,
Science as Compassion.
Confused about the evolution question? Do not miss Fish Wars ..
Is there a place for girls in science and engineering? Try Woman Role Models
Creation Care: Back to Eden - Students Find Inspiration in Creation Care
A thoughtful poem.
---
Off the wall...Science News
By KENNETH CHANG
A 17-year-old from Fort Worth won the $50,000 grand prize at Google's science fair last week.
NYTimes
Green Chemistry in action Video - National Geographic
The good vibrations of the stars
Did you know that the sun is vibrating? It's very hard to see, but researchers who
study the sun can measure how strong those vibrations are. They can also tell how
smooth the surface of the
sun is.
Sticky spider web caught bugs millions of years ago Have you ever touched a
spider's web? If you have, you know they are sticky but also pretty easy to break.
It's hard to believe a spider's web could last for millions of years, but one web did.
Scientists from Spain and the United States say they found a 110-million spider web
that still has bug parts sticking to it.
Symphony Of Colours In The Tarantula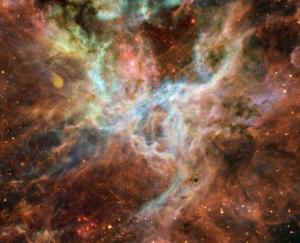 The Tarantula Nebula is the most vigorous star
forming region known in the local Universe. Using
the power of the freely available ESA/ESO/NASA
Photoshop FITS Liberator package a young amateur
astronomer has created an amazing panorama of
the centre of the Tarantula. ScienceDaily
Gender split in science attitudes Girls and boys in
Britain both think science is important but there are
marked differences in their interests, a survey suggests.
Two-thirds of boys were keen on the latest technological
developments. But only 37% of girls felt the same - and
they were much more likely to think animal experiments
were always wrong. Mori polled 704 youngsters aged
11 to 21 in England, Wales and Scotland, for food
company Nestle's social research programme. (English spelling)
Seven out of ten boys and girls agreed that science and technology made modern life
healthier and more comfortable. Two-thirds wanted more money spent on making
"environmentally friendly products", while 43% called for more investment in research
into genetically modified food. And 53% of those surveyed trusted scientists to be
responsible about the potential dangers of their work.
They were split on whether or not the government could be trusted to legislate to control dangerous
scientific developments. Just over half agreed "people like me and my family have little chance to
influence the government".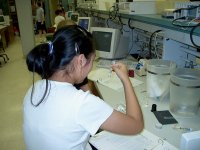 Girls were much more likely to say they learned how to deal with life's
problems by reading fiction and watching films and TV dramas.
Nestle research director Helen Haste said girls were not as turned off
by science as was commonly believed but were much more concerned
than boys about the ethical issues surrounding the subject. She said
one of the most interesting aspects of her study was that skepticism
about the benefits of science was highest among the very girls who
were most interested in scientific careers. "If we want to get girls more
interested in science and technology, we must move away from
purveying the 'space and techie' stereotype that seems to appeal to boys, and bring ethics
and the human context into the science curriculum," Prof Haste said. BBC News
Natalie Portman, Oscar Winner, Was Also a Precocious Scientist By Natalie Angier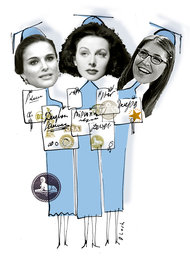 Natalie Portman is one of a handful of stars who have serious scientific
credentials. The Intel Science Talent Search is considered the nation's
most elite and demanding high school research competition, attracting the
crème de la milk-fats-encased-in-a-phospholipid-and-protein-membrane
of aspiring young scientists. Victors and near-victors in the 69-year-old
contest have gone on to win seven Nobel Prizes in physics or chemistry,
two Fields Medals in mathematics, a half-dozen National Medals in
science and technology, a long string of MacArthur Foundation "
genius" grants — and now, an Academy Award for best actress in a
leading role. New York Times
As sticky as a gecko ... but 10 times stronger!
The gecko's amazing ability to stick to surfaces and walk up walls has
inspired many researchers to manufacture materials that mimic the
special surface of a gecko's foot.
'Oldest star chart' found A carving made more than 30,000 years ago may be the oldest image
of a star pattern yet discovered, claims a German scientist. BBC News

The ride of their lives Scientists study male frogs that take their clutch on piggy-back journeys
through the forests of Papua New Guinea. BBC News



Owls have 'surround sound' A new study reveals that owls catch their prey by
creating a two dimensional map of sound signals BBC News
Sorry, Charlie, you and Nemo aren't the only fish that talk
Talking fish are no strangers to Americans. From the comedic portrayal of "Mr.
Limpet" by Don Knotts, to the children's Disney favorite, "Nemo," fish can talk,
laugh and tell jokes -- at least on television and the silver screen. But can real
fish verbally communicate?
---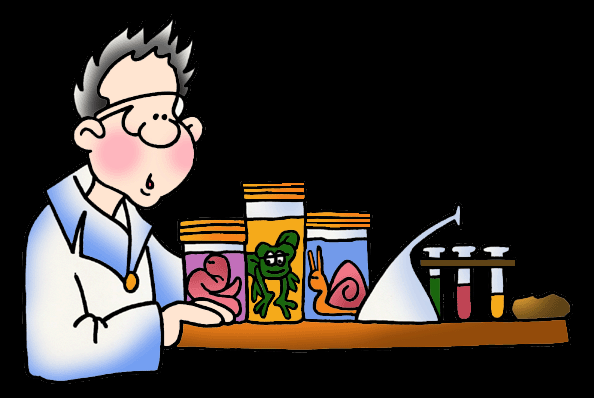 An Interesting Career in Psychology : A Social Psychologist in Rehabilitation Technology.
David Boninger, Three Rivers
Rosie and Riff Talk to Lief Sigren, a Wetland Ecologist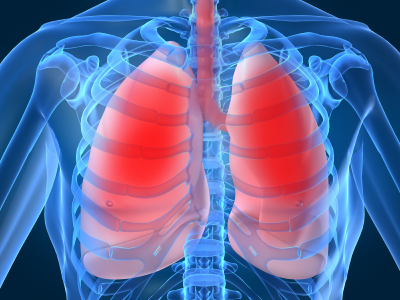 Rosie and Riff Talk to Dr. Cindy
Jumper, a Lung Doctor
Rosie and Riff Talk to Ms. Linda
Holman, a Microbiologist
Advice for Computer Science
College Students,
Aaron Topance

1. Practice the fundamentals. Don't spend all
your efforts on popular languages and tools,
and the skills listed in the job advertisements.
Instead, master your skills in statistics,
computing, databases, operating systems,
computer architecture, computer networks
and discrete mathematics. Try to solve problems
in Donald Knuth's Art of Programmingî. If you
can solve most of the problems, your skills in
computing are not bad.
Living the Issue B. L. Benderly. A family health crisis led lab scientist Adil Shamoo to a new passion
and a new career in bioethics.
Geoscience Peter Fiske, national lab researcher.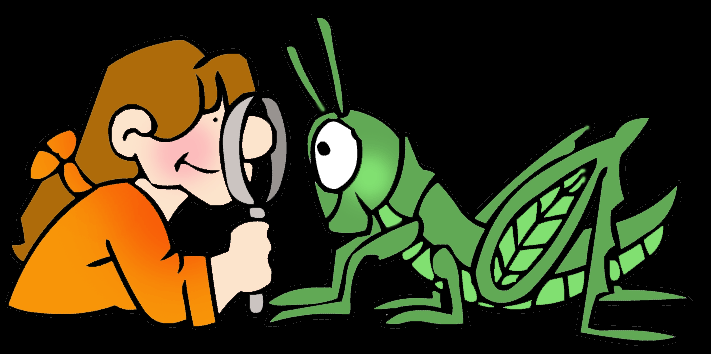 Some great science links!
For Home Schoolers

AAAS Science for Kids (updated every
Thursday)
Chemistry for Bored Kids Really!
PBS-Nature Learn a lot of interesting stuff
about animals.
Never lend a geologist money. They consider a million years ago to be recent.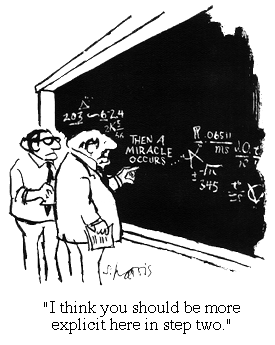 For Teens
Does taking tests help students learn science?
BY SCOT SUTHERLAND, ON JANUARY 24TH, 2011 based upon a recent
Purdue study by Jeffrey D. Karpicke and Janell R.
Blunt shows that when students take tests they
learn science better than when they use study aids
such as concept maps and other learning devices.
Test of FAITH: Science and Christianity Unpacked:
Youth Leader's Guide
Stewardship: Doing the Right Thing. 17. Thinking about
Human Identity. 21. and much more. an excellent set of age
graded faith-science lessons.
An Interesting Sunday School Course: Fossils and
Faith - Finding Our Way Through the Creation Controversy, Thea Leunk Sessions:
4. New course for teens!
DNA From the Beginning Get it right!
Internet Public Library Science Fair Project Resource
Guide When all else fails!
Science Fair Guide Suggested by a student in India
Super Science Fair Projects Packed with all sorts of
good ideas.
About Your Health Start here.
The National Air and Space Museum Take a tour.
Your Sky Generate a virtual map of the sky.
For The Younger Set
Astronomy for Kids A great site of things for kids and their parents to do on a clear evening.
Kitchen Scientists - A Guide To Home Science Experiments (suggested by Andrea Merkel)
Mathematics is made of 40 percent formulas, 40 percent proofs and 40 percent imagination!
Let us in on other links that you have enjoyed.

Return
Latest entry: 7/20/2011
---