Students Find Inspiration
in Creation Care
By Wendee Holtcamp
Imagine that immense trees tower above you as you walk through an ancient forest. Inhale deeply the earthy smells, and enjoy the fresh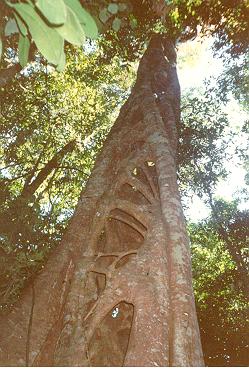 air. Feel the cool moisture on your skin. Take off your shoes and feel the lush, green moss that carpets the forest floor. This is God's creation. The Almighty God that died to save us, also brought to miraculous life these incredible wonders of nature. From the redwood forests to the aquamarine ocean, and from the tiniest algae to the great white polar bear, God created these creatures we share the planet Earth with.
Most of us appreciate the beauty and wonder of nature -- even those who don't consider themselves outdoorsy people. People decorate homes and buildings with images of the great outdoors - paintings, calendars, coffee table books. We buy plants and pets to bring joy to our lives. Yet as human populations continue to grow worldwide, what God created -- forests, streams, wetlands, and wildlife -- has come under stress.
"Creation is being depleted by billions of small, unthinking actions," said Larry Schweiger, former Vice-President of National Wildlife Federation (NWF is a secular environmental organization, Schweiger is a Christian). "With faith underpinning our conduct, we Christians must first confront our own worldly attitudes, destructive behaviors and over-consumption habits. Such life changes must be rooted in deep spiritual convictions. They spring not just from intellectual understandings of creation, but from a deeper love for our neighbors-present and future."
Schweiger is not the only one to express these feelings. Across the nation, Christian creation care ministries, retreats, and camps are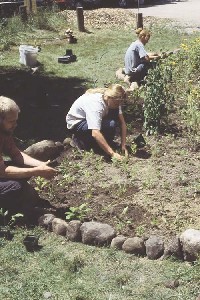 arising, growing and expanding, from Earth Ministry in Washington state to Evangelical Environmental Network in Pennsylvania. Many Christian college biology and environmental science departments actively engage their students in creation care projects as an integral part of their education. Together, these ministries inspire people to take an active role in protecting and respecting creation. And because students often carry such a deep passion for life and their convictions, they form the heart and soul of many of the projects and organizations.
Prairie restoration by Calvin College students
While she was in college, Brenna Moore interned for Target Earth International in Colorado, a nonprofit devoted to "Serving the Earth, Serving the Poor." Brenna explains that working for Target Earth Campus Division was the first time she'd made a real connection between faith and social action.
Target Earth's Campus Division aims to teach humankind to care for God's human and non-human creation, and to equip students, staff and faculty with Christ-centered environmental literacy, so they can teach and motivate others to act on behalf of the earth and the poor. "Our work is a response to God's love," explains Moore, who now works as Campus Coordinator, "by addressing environmental justice issues and ultimately evoking change."
The Path to Christian Earth Stewardship
God calls us to be stewards of the earth, and servants of God and one another. And fulfilling our duty as an earth steward - or not - can
affect our very heart and soul. "Our spiritual journey is very much connected to the visible and physical world about us," said Bishop William Skylstad. "The creation we see outside of human beings is very much connected to who we are inside as human beings."
This holds true for Mike Langston, a student in environmental management at Oklahoma State. "I realized that I feel closest to God when I am in the wilderness," Mike explains. But Mike's Christian faith and his love for nature weren't always intertwined.
As a youth, he attended several secular summer camps as his love for the outdoors and nature flourished. By serendipity, or God's guiding grace, he gave his life to Christ at one of these nature camps when he was fifteen. "This is obviously not a Christ-centered camp," says Mike, "yet I met some committed believers there, and the love they showed for me made me so want to be like that them that I chose to give my life to Christ."
In college, Langston struggled with whether he should pursue ministry or environmental science. "I was challenged by the fact that so many of my friends were going into full-time ministry," explains Mike. "I began to examine why I was pursuing a career in ecology. I spent hours in prayer and examining my motives." Mike continued on his path of studying environmental policy and management because through his prayer and reflection, he never found a reason to leave, no internal leading, nor any sense that he could be better used elsewhere.
Kevin Robertson found a similar path between his Christianity and his love for nature. "My father being a high school biology teacher and taking us on camping trips had a large influence on my love of nature," says Kevin, "while my mother's strong Catholic heritage also encouraged me to love God and to be called to ministry." Kevin says that his faith and his love of nature were more of a conflict than a connection for many years. "I couldn't decide whether I wanted to be a priest or an ecologist," says Kevin. "The dilemma went on into college, until I married a Southern Baptist and the Catholic clergy option went by the wayside."
Kevin's struggle to connect his strong faith with his love of nature came together at a Christian ecology conference he attended in Colorado. "[It] awakened me to how much concern for our environment is linked to Christian stewardship and love of people, and how much the Bible has to say about our duty in this regard." Kevin completed his Ph.D. in Ecology, and now works at Tall Timbers Research Station in Georgia. He was recently inspired when he met students that became Christians through their university professors, and contemplates becoming a science professor in the future.
Student Creation Care Programs Proliferating
Some students, like Mike and Kevin, connect their faith and love of nature through serendipity. Yet more and more are taking part in formal Christian creation care programs offered to students, lasting from one week to several months.
Target Earth, where Brenna Moore works, puts on a 10-day student leadership training retreat, called SCHEME. With the gorgeous Sierra Nevada Mountains at their doorstep, students learn how to become campus leaders that can motivate others to serve God by improving the environment and helping the poor. Experts on current environmental and social issues, as well as Biblical scholars, interact with the students in between prayer and fellowship time.
"The coolest part about it is that there aren't many young people these days fired up about both of these issues," says Moore. "They're either really into environmental issues or way into the Christian faith, but they're not really making connection between personal faith and social issues." SCHEME changes the tide, by enlightening students on the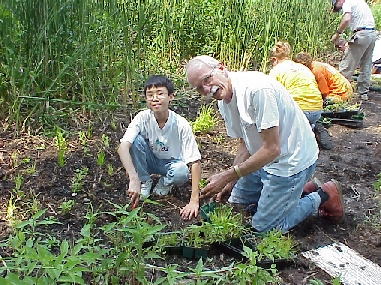 Biblical basis for creation care. Brenna explains that meeting twenty other students that really want to take action inspires and motivates the individuals who attend. Students return with a renewed appreciation for creation.
Replanting wetland vegetation
Some creation care programs are semester-long research and education experiences. Students who participate in Target Earth's Global Stewardship Study Program spend four months in Belize, learning about tropical rainforests, sustainable development, and the Biblical basis for earth stewardship. Past participants had great things to say.

"GSSP is extremely challenging intellectually and then in turn, spiritually. My eyes have been opened, and I want to learn more, to read more."

"This has been such a personally enriching and meaningful time in my life. It has truly been a challenging and life-changing experience."

"It jumpstarted our thinking on an assortment of complicated issues. [The instructor] really encouraged us to think for ourselves and examine our positions on things."

"I used to almost completely ignore the Bible, especially the Old Testament, but now I have a better understanding. It has become more revealing, interesting, and important than ever before."

Aquinas wrote about the book of the Bible as God's written revelation, and the book of creation as God's general revelation. Earth stewardship programs can help students connect these complementary spheres of Christian life into a vibrant abiding faith. Students of various academic majors can further define their career goals, increase their Biblical knowledge, expand their faith, and heighten their compassion for all God's creation.

---
Text Copyright © Wendee Holtcamp 2001
Photos Copyright © 2001 Wendee & Matt Holtcamp,
or Copyright © 2001 Dr. David Warners, Calvin College