by Monica Slinkard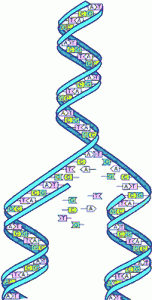 Since the announced completion of the human genome project in April 2003, the
scientific community has been working to decipher the meaning of the approximately
24,000 genes in the human genome. In case you don't remember from high school biology (or chemistry), genes are specific sets of DNA unique to every single organism, and the code contained in a person's DNA is part of what makes them who they are, for better or for worse.
But when it comes to understanding the exact ways in which DNA differences define unique characteristics of a person at the cellular level, in the way cells function and malfunction,even the most learned academics agree that the science of genomics has a very long wayto go.
Dr. Liskin Swint-Kruse, an ASA member and a professor of biochemistry at the University of Kansas Medical Center, has high hopes. Really high. high—Liskin compares the quest for mastering genomics to the challenge of putting a man on the moon at the turn of the century (the last century). To an early 1900's stargazer, the impossibility of walking on the dark side of a glowing orb in space is a
fitting comparison to the distance scientists must travel before they unlock the subtleties of how DNA
works. Full Article