Tourist Possibilities


ASA offers five tours on Friday & Monday (July 29 & August 1), described on page 5 of the ASA Annual Meeting Brochure.
For a visual overview of the area (North Central College, Naperville, Wheaton, Chicago, ASA's field trips) and its sights & events, see pages 10-18 of ASA's Slide Show for the Meeting. Ray Lewis, who lives in Wheaton and is the local chair for this year's meeting, has made a page about fun things to see and do: Millenium Park & Art Institute, Magnificent Mile, scenic views from high above the city, live plays, boat tours.
You can explore the huge website of Explore Chicago with a history of Chicago & the local transportation system and many fascinating things to see and do, including the Museum of Science & Industry (overview & website) plus the Field Museum of Natural History (overview & website) and nearby Shedd Aquarium & Adler Planetarium. More information — about music (jazz & blues, rock & pop, Lake Shore Drive,...), baseball (Cubs & White Sox), airport culture, and more — is in an appendix.
Other websites are Choose Chicago & Go Chicago & Chicago Traveler and you can search for more.

---
ASA Registration Center — your first stop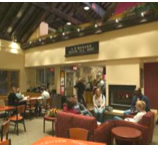 When you get to North Central College, the ASA Registration Center is in Wentz Concert Hall, which is #31 on this campus map at the corner of Chicago & Ellsworth. You can type its address (171 E. Chicago Ave, Naperville IL) into the GPS navigation system of your car (or smartphone) or use it as the ending address in a web-map service: Google Maps or Mapquest or Rand McNally.
DRIVING
PLEASE HELP OTHERS TRAVEL TO THE CONFERENCE, and PLEASE USE THE RIDE BOARD ASAP.
Why? If you're driving from home (or airport) and you can offer SHARED TRAVELING to others who are attending, this will be greatly appreciated. And please post your information on the Ride Board as soon as possible, because this might help others make their plans. For example, if they can ride with you, they may do this instead of buying a ticket for bus, train, or plane. But if they don't know you're driving until they already have bought their ticket (and usually the sooner a ticket is purchased the cheaper it is, and more scheduling options will be available) so if you post your "ride offered" information ASAP this might be very helpful for someone. Thanks! :<)
DRIVING DIRECTIONS to North Central College are here and then you can find the ASA Registration Center.
SHARED TRAVELING by using the RIDE BOARD
Shared Traveling will help you conserve energy and money, and your stimulating discussions can begin during the drive, before you get to the meeting.
ASA's RIDE BOARD will help you find partners for shared traveling. Without logging on (so it's fast and easy) you can OFFER A RIDE or REQUEST A RIDE.

LOCAL TRAIN from downtown Chicago to North Central College: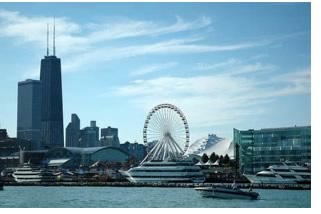 BNSF Railway (Burlington Northern Santa Fe Railway) is a commuter train, run by Metra, that is cheap ($5.00) and fast (times vary, ranging from 32-64 minutes, as you can see in this schedule) going from Chicago Union Station (downtown, 225 S Canal St, Chicago IL) to Naperville Station (105 E. 4th Ave, Naperville IL) and then a .6 mile walk (along or through two parks on Center St) to the ASA Registration Center. For more information, check Metra.

Explore Chicago has an overview of the local transportation system; also, Regional Transit Authority (for CTA, Metra, Pace) and Chicago Transit Authority - CTA.
BUS or AMTRAK to downtown Chicago - and North Central College
Step 1: If you live fairly close, three options for traveling into downtown Chicago are regional buses (most go downtown, in addition to airports) & Megabus (stops next to Union Station) or Greyhound Bus (with cheaper fares if you book ahead 7, 14, or 21 days *) or Amtrak which explains that Chicago is "at the center of our national system" so there are "frequent daily departures between Chicago and key cities in the five-state area, including Illinois, Indiana, Michigan, Missouri and Wisconsin." / * For example, Cleveland to Chicago is $70 round-trip on Greyhound, with a convenient "8:25 am to 3:00 pm" into Chicago, and several time-options returning. Fares on regional buses are also low, and most have even more scheduling options. / Fares on Amtrak are usually a little higher (but reasonable) and it may be more difficult to find a convenient schedule (it depends on where you live) but train travel can be a very enjoyable experience.
Step 2: After you've arrived downtown by bus or train, you can take a local train (Metra) to North Central College. Some regional buses go to Union Station, and some go to other nearby locations, so check this with your bus company; the Greyhound Bus Station is at 630 W. Harrison St, and from there to Union Station (225 S. Canal St) is about .5 mile; for details, type the station addresses into Google Maps or Mapquest.
PLANE to O'Hare or Midway - and North Central College
Step 2: After your plane arrives,...
For the two major airports, O'Hare (ORD) and Midway (MDW), Chicago Department of Aviation has photos of culture in O'Hare (a war hero and art gallery) and Passenger Information about Ground Transportation by taxi (the distance to Naperville from O'Hare is 27 miles, from Midway is 28 miles) and shuttle bus (a larger list & SubLimo) & Train-and-Metra (see option #2 below) from an airport to North Central College. Other pages have information about rental cars.
Taxis — I web-searched [taxis o'hare airport] and clicked the first link (American Taxi) to get a rough idea of the cost (so providing this link is not a recommendation by me or ASA) and you can check their Flat Rates to North Central College (which is north of 75th St, so it's $40 or $43 from O'Hare or Midway) plus another $2 (see "Passenger Notice" at top); then in Metered Rates you'll see that they charge $2 per extra passenger for Flat Rates, so it seems to be $44 (split two ways) for 2 people from O'Hare, and so on; but you should contact them to check all of this. And you can check other taxis and shuttle vans, to see their services and costs. If you want to try finding people for a shared shuttle or taxi, use the ASA Ride Board.
Public Transport — There are two reasonable options from Midway Airport to North Central College, and one option from O'Hare Airport:
1. Bus-and-Metra from Midway — Here are the directions provided by CTA/goroo: take CTA Bus 54B (Cermak/Kenton, departs from Midway Orange Line Station) north 4.1 miles, then it's a couple of blocks walk to the Metra Station - Cicero where you can take a local train (Metra) to North Central College.
2. Train-and-Metra from Midway or O'Hare — Chicago Transit Authority (CTA) has L-trains from airports to downtown where you can sightsee (optional) and take a local train (Metra) to North Central College. The cost for an L-train is $2.25 and the time is 45 minutes from O'Hare, 25 minutes from Midway, then after a short walk to Union Station it's $5.00 and about 45 minutes (32-64 minutes) to North Central College. There is a "plan a trip" box in the right-side column; type "chicago ohare" and "union station", then click the button for "goroo".

FOR THE RETURN TRIP from North Central College to your airport (or other places), at the conference there will be a physical Sharing Board where you can write your information and requests.

---

APPENDIX - for extra tourist information
Music of Chicago (blues, jazz, soul, and more) and current events (Chicago Jazz & MetroMix & Chicago Music Guide); a musically interesting song (it's one of my favorites) is about Chicago's "Lake Shore Drive" and you can hear samples from Amazon or iTunes (for a longer sample, click "view in iTunes") or the whole song at myspace and see videos of LSD converted into a parking lot by a blizzard (plus an interview with songwriter Skip Haynes) from ABC-Chicago and, on youtube, a high-speed tour and more.
Baseball — the Chicago White Sox have home games July 25-27 and July 29 through August 4 (schedule) but the Chicago Cubs will be on the road July 25 through August 4 (schedule).
Airport Culture: The airports homepage has pictures of three cultural features within O'Hare Airport — a gallery of flags, an exhibit honoring Edward O'Hare (he was a war hero) and the Corridor Gallery (you can see a sampling of the beautiful art near ground level - but not the art overhead - in photos by Greg Crider and Bo Mackison).