<![if !vml]>

<![endif]><![if !vml]>

<![endif]>NEWSLETTER
of the
American Scientific Affiliation &
Canadian Scientific & Christian Affiliation
---
Volume 52, Number 1 JAN/FEB 2010
---
Gerald Cleaver, associate professor at Baylor, earned two bachelor's degrees from Valparaiso University, one in math and one in physics, and his master's and doctorate in string <![if !vml]>

<![endif]>theory/early universe cosmology from Caltech. He has been at Baylor since 2001. Gerald has been very active in the science and religion dialogue, participating in many events, giving presentations at churches and universities, and organizing several conferences. He has authored over 40 peer-reviewed physics publications and has been an invited speaker at over 30 national/international physics conferences.
He learned about ASA while a senior at Valparaiso University and attended some ASA-sponsored lectures at Wheaton College. They helped him make a decision about whether to go to seminary or to graduate school. He decided his calling was to a ministry via academia, through teaching and research, particularly in string theory and early universe cosmology. Gerald says, "My primary research focus is a long-term systematic study of the generic physical properties of the string landscape in the free-fermionic heterotic region."
During 2007–08, a student and he received national and international acclaim for papers discussing theoretical string/M-theory realization of the Alcubierre effect. They were interviewed live on BBC radio as well as by FoxNews.com, Discovery Channel, Space.com, MSNBC.com, and UPI.com. Related stories additionally appeared on numerous science websites and in several international newspapers.
Gerald has been very active in the ASA since joining in 1992, being Faculty Advisor for the Baylor student ASA chapter and helping to coordinate our Annual Meeting last year at Baylor. He is also very much involved with Metanexus.
Lynn Billman has been working with the National Renewable Energy Laboratory in Lakewood, CO, since 1987. She is currently Senior Analyst II. Prior to that, she worked for Chevron <![if !vml]>

<![endif]>Research Company as a chemist and operations analyst. She has a BS (with highest honors) in chemistry from UC-Berkeley. Lynn joined the ASA in 2002, and since then she has attended most of the Annual Meetings, including giving a presentation and helping lead the women's luncheon at George Fox University. She has been very active in the churches she has attended, serving as deacon, youth leader, and on the choir and worship team. She says, "I enjoy reading broadly among Christian classics on theology, prayer, history, and philosophy."
Lynn has worked locally organizing many science and religion focus groups. She received the Department of Energy Award for Outstanding Service in 2008. She also has written many papers dealing with renewable energy and U.S. Climate Change Technology. In 2008, she was invited to speak at the National Association of State Energy Officials conference in Greensburg, KS, and at the Heartland Energy Policy and Climate Protection symposium in Kansas City.
Arie Leegwater is professor of chemistry emeritus at Calvin College, having taught there since 1978. Prior to that he taught at several institutions including UC-Davis, Trinity Christian <![if !vml]>

<![endif]>College in Palos Heights, IL, Free University of Amsterdam, the University of Utrect in the Netherlands, and the University of Leeds in the UK. Arie says,
I came to view the vocation of Christian academic as a personal calling of God, witnessing to the healing power of God's kingdom rule over the world, a cosmos which he loved and continues to love in Jesus Christ. I want to echo the words of the old Heidelberg Catechism in my life: "What is your only comfort in life and death? That I am not my own but belong body and soul to my faithful savior Jesus Christ." That is sufficient grace to live by.
Since 2007, Arie has been editor of PSCF which serves the ASA so much. He has given presentations at four recent ASA Annual Meetings as well as at many professional conferences and other settings. From 1996–2003, he was the science editor and juror for Christian Scholars Review. Arie joined the ASA in 2002.
William Yoder, of Chelmsford, MA, received a BS in engineering science and a MS in electrical engineering from Penn State. He earned his PhD in electrical engineering from the <![if !vml]>

<![endif]>University of Pennsylvania. Presently, he is retired, but from 1971–1999, he worked for the MITRE corporation in Bedford, MA, as an engineer and member of the technical staff. Their work was sponsored primarily by the USAF, and his area was radar systems. He helped solve numerous radar system design/ performance problems. In 1965, Bill joined the ASA, being introduced by Don Munro while they were grad students at Penn State. He has attended most of the last dozen Annual Meetings and has reviewed some articles for PSCF. He says,
I have served on various church boards and committees, taught Sunday School, participated in door-to-door evangelism, and led in the planting of a new church. I am passionate about seeing the gospel taken to those who have not yet heard. I have been coordinator for the course, "Perspectives on the World Christian Movement," and have taught several of the history lessons.
Bill is a board member of World Mission Associates, a small mission agency advocating the use of local resources and the avoidance of financial dependency in mission activities, thus shortening the delay until mission churches will be able to send their own missionaries. He was involved in forming the Affiliation of Christian Engineers and Scientists in Technology (CEST) at John Brown in 1999 and served as president in 2001. He has helped lead CEST sessions at Annual Meetings. In 2006, he began writing a quarterly newsletter for CEST members.
Darrel Falk has been professor of biology at Point Loma Nazarene University since 1988. Prior to that, he taught at Mount Vernon Nazarene University and Syracuse University. He <![if !vml]>

<![endif]>received a BS in biology from Simon Fraser University, and his PhD in genetics from the University of Alberta.
Darrell joined the ASA in 1980 and has given presentations at ASA meetings as well as other science and religion groups, including in Australia. He has also spoken at universities, seminaries, churches, and is currently co-president of BioLogos Foundation. He has had many articles published in his field of genetics of the fruit fly as well as in other areas. He has been awarded grants totaling over $1.5 million from the NIH, NSF, and Howard Hughes Medical Institute and other agencies.
Earlier in his career, he received tenure at a research institution (Syracuse University), but chose to leave to devote his career to Christian higher education. He developed a program for about 100 high school science teachers to come to his university for a seminar and dinner with leading scientists, including some Nobel laureates, eight times each year. This is the 11th year of this program. Darrel says,
Today, the prologue to John's gospel best describes the essence of that from which my life draws its meaning: "What came into being was life, and that life was the light of all the people. The light shines in the darkness and the darkness did not overcome it" (John 1:4, 5 NRSV). That is my story. My life only has meaning in the light which emanates from God's presence as exemplified in the person of Jesus Christ and experienced by me through the indwelling presence of the Spirit.
Royal Society Features Historic Papers On-Line
The Royal Society has published more than 60,000 papers since its founding in 1660. To mark the start of its 350th year, it is putting 60 of the most outstanding of them on-line. They range from serious articles such as the one in which Newton demonstrated that white light is a mixture of various colors, to lighter fare in which someone suggested that Mozart was too prodigious to be a 9-year-old and that he must therefore be a midget adult. http://trailblazing.royalsociety.org.
The Calvin Institute for Christian Worship just released an article on the connections between science and worship. Deborah Haarsma of Calvin's physics/astronomy dept. contributed some of the materials. One deals with how worship that honors God as Creator can defuse culture wars between science and faith.
Deborah sees Christians who are scientists as untapped resources, saying the subject of science in worship and preaching is most significant and needs more attention. She has met many students who are not aware that there are multiple Christian views on origins, stem cells, global warming, and other scientific issues. Sometimes this causes conflicts and weakens students' faith. Dealing with these issues in church would help them a lot. "We are free to explore the universe with joyful curiosity, relying on God's faithfulness, discovering all the wonderful how and when of creation," she states.
Deborah suggests that churches could have nature walks at their picnics, or that they could have a star party, looking through a telescope after an evening baseball game. Details are at www.calvin.edu/worship/stories/science_and_worship.php. We highly recommend sharing this with colleagues, pastors, students, etc.
The Executive Director's Corner
Randall D. Isaac
When you click on "About ASA" on our website www.asa3.org, the first sentence is "The American Scientific Affiliation (ASA) is a fellowship of men and women of science and disciplines that can relate to science who share a common fidelity to the Word of God and a commitment to integrity in the practice of science." I've discussed that last phrase in this column before, but now, as I write this in the first week of December, the issue of "integrity in the practice of science" is prominently on our minds. The theft and public release of emails from the Climate Research Unit at the University of East Anglia has raised many questions that transcend the specific topic of global warming.
In areas of honest disagreement among Christians, the ASA does not take a position. On the topic of integrity in the practice of science, there can be no ambiguity. The ASA clearly and explicitly stands up to be counted. I believe there is no disagreement within the ASA that we cannot support the theft of private emails, disclosure of stolen material, attempts to hide, destroy, or modify data, secret influences of the peer-review process, or any distortion of analysis to fit a desired objective. Whether and to what extent any of these activities were carried out in this case is the subject of an independent investigation and pending those reports, it is not appropriate for us to speculate on what happened.
The responses to this development highlight what should be of great concern to all of us. Pre-existing polarization on the topic of global warming escalated sharply. Those who were previously uncertain about the evidence for global warming tended to be quick to see evidence of fraud with a concomitant loss of credibility for most researchers in climatology. Those who were already convinced of the evidence for global warming tended to jump to the defense of what they saw as beleaguered scientists, exasperated by unfounded attacks, expressing their frustration in notes in various contexts. They seemed to see the theft and disclosure of emails as a stroke of desperation to influence the global warming debate in the absence of solid data to the contrary.
No matter how this episode plays out, the loser is the reputation of the scientific community. This particularly concerns those of us who are Christians in science striving to improve the perception and credibility of science in the Christian community. Though no evidence has yet surfaced that any relevant data were in fact withheld from consideration or modified, the mere suggestion that it seemed to have been considered rings alarm bells for everyone. All of us in science must recognize that we are not immune to the conscious or subconscious desire to influence information in our zeal to publish rather than perish. As Christians, anything less than complete openness and honesty in our work damages not only the reputation of the scientific community but the witness of Christ to all. As such, the ASA commitment to integrity in the practice of science is one we cannot emphasize enough.
What can we do to help the typical church congregation gain more trust and confidence in the scientific community, whether it be in climatology, cosmology, biology, ecology, physics, or any other discipline? It will take a systematic and continuing education to show those outside of science how the scientific system works. What can we do to improve the integrity of the practice of science in the scientific community? Science isn't free of fraud, error, and subjectivism. Rather, it is the rigor of scientific methodology that sooner or later ferrets out such error. The emphasis on the reproducibility of results, clarity of the details of all experiments, peer-review, and many other tactics, is designed to correct any errors that will inevitably arise. We must ensure that this methodology is scrupulously followed.
We tend to modify scientific interpretations in order to conform more closely to our preferred interpretation of the Bible or our theological perceptions. This isn't in keeping with integrity in the practice of science. Changes in scientific understanding must go through the rigor of scientific methodology substantiated with solid data and clear analysis that the entire community can address. When it has earned the status of majority acceptance, there is integrity in the result.
It is my personal opinion, after three years of studying the literature and meeting with scientists of various persuasions, that there is indeed compelling evidence for current and future global warming due predominantly to the consumption of fossil fuel. The biggest uncertainty is the timing and magnitude of the climate change but even the most optimistic outlook is damaging enough to galvanize us as Christians in science to action. Several ASA members disagree with my personal view, and I welcome that diversity as an important part of our dialog. May we be able to demonstrate our commitment to integrity in the practice of science by working through these different opinions with the rigor of accepted scientific methodology, expressing at all times our unity in the body of Christ.
<![if !vml]>

<![endif]>
Young Receives Geology Award
At the mid-October annual meeting of the Geological Society of America (GSA) in Portland, OR, GSA's History of Geology Division presented its 2009 Mary C. Rabbitt award for outstanding contributions to the history of geology to Davis A. Young. Dave, who taught at Calvin College for 26 years and is now professor of geology emeritus, is interested specifically in the history of igneous petrology. To that field he has contributed two major books, N. L. Bowen and Crystallization-Differentiation: The Evolution of a Theory (Mineralogical Society of America, 1998) and Mind Over Magma: The Story of Igneous Petrology (Princeton University Press, 2003). In addition, he has contributed several articles to Earth Sciences History, the most recent of which is a four-part series concerning the development of a widely used quantitative igneous rock classification by four American petrographers at the beginning of the 20th century. <![if !vml]>

<![endif]>
Dave now lives in Tucson, AZ, with his wife. He has been involved in forming a creation-oriented ministry at Dove Mountain Presbyterian Church and leads geology/birding field trips for church members three times a year.
The Association of Christian Geologists (ACG) had an evening meeting at this conference and had over 40 in attendance, making it one of the largest gatherings of ACG at GSA in the past decade. The theme of the evening was "Geoscience, Vocation, and Creation Care," with Steve Moshier from Wheaton College as MC. Katie O'Connor, a recent Wheaton graduate, spoke on "Science as Worship" and discussed a biblical view of environmental stewardship. She said she studies science to be a better manager of God's possessions, to have a higher awe of God's creation, and for the potential to help others and serve the mission of the church.
Several people took Dave out for a congratulatory dinner one night, including Charles Carrigan and Ken Van Dellen. * Keith Miller
In November, Ted Davis, Distinguished Professor of the History of Science at Messiah College and current ASA President, presented a public lecture, "Religion and Science in Modern America," at the Canyon Institute for Advanced Studies in Phoenix, AZ. Ted dealt with how Americans have debated the religious meaning of science from the 1920s (the period of the Scopes "Monkey Trial") up to the present day and discussed what has changed and what has not changed since then. He began with the concerns of William Jennings Bryan and the Protestant fundamentalists of the Scopes era, using cartoons about evolution to show why they so strongly opposed teaching it in the public schools. Then he surveyed how liberal Protestants responded to Bryan's claims.
Canyon Institute for Advanced Studies is a Christian interdisciplinary research and learning center and brings together creative minds and informational resources for the communities of thoughtful Christians and others who are trying to better understand the substance and challenges of our changing world. Bill Williams is director and founder; David Siemens is involved with their newsletter.
Amazon reportedly lists more than 175 books dealing with a doomsday in 2012. On November 13 (Friday the 13th), the Hollywood film 2012 reached theaters, presenting a scenario in which a fictional planet Nibiru collides with Earth. Based largely on an ambiguous interpretation of the ancient Mayan calendar, the movie depicts continents cracking and an aircraft carrier hurtling through the White House. It has alarmed some viewers enough to sell their property and prepare for the end. NASA has issued a rebuttal, www.nasa.gov/topics/earth/features/2012.html. Deborah Haarsma recommends www.astrosociety.org/2012, and Hugh Ross adds his perspective at www.reasons.org/response-2012-prophecies.
Last November, the BioLogos Foundation brought together 52 scientists, theologians, and pastors in New York for its first-ever workshop on how to bridge the science-religion divide. Timothy Keller, pastor of Redeemer Presbyterian Church and author of The Reason for God, hosted the event. Discussion focused on seven papers commissioned by BioLogos and written by a diverse group of Christians, including Westmont College biologist Jeff Schloss and astronomer Jennifer Wiseman. Papers are being made available at www.biologos.org. Twelve of the attendees were ASA members, including Executive Director Randy Isaac.
Making a Difference Internationally
"In many places, doors that have been closed to traditional missionaries are open to educators. Science and math education is often at the top of the list." Those words from Dan Kastelein explain why, after a career in hi-tech in the Boston area, he and his wife Judy accepted a major challenge, joining TeachBeyond (formerly Janz Team Ministries) to teach at Black Forest Academy (BFA) in Germany last year. They have just started their second year at this Christian school, serving 300 children of missionaries and other international families from 42 countries.
TeachBeyond is committed to obeying the Great Commission through a variety of educational initiatives. Primarily, it recruits, trains, and sends Christian teachers and staff to partner schools around the world that focus on missionary kids, children of diplomats, and/or national children. It is looking for educators (especially those with a math/science emphasis) who have a desire to use their training and experience for the work of the Kingdom by committing to serve for two years or more at one of these partner schools. To get more information or to obtain a list of the staffing needs for the 2010–2011 school year, email Mobilization Coordinator Michael Koerber, mkoerber@teachbeyond.org.
Dan and Judy enjoy the fact that their work makes it possible for missionaries to continue their ministry, often in difficult places, while their children get their high school education at BFA where they are being prepared for colleges and universities in North America. BFA has significant needs in the science department. Dan told Randy Isaac:
Our science department is working to improve the facilities, equipment, and curriculum at BFA so we can provide a science education that is comparable to what a student would experience in a North American high school. As an example, it is difficult to teach chemistry well since lab equipment is very limited. Lack of a fume hood makes it a challenge to handle chemicals properly. Equipment for physics and physical science is also limited and outdated. We've purchased some equipment to improve the situation, but a lot more is needed … We are trying to think creatively about how we can finance a significant improvement in the science department. I am aware that there are grant opportunities for high school science departments and have done some searching on the Internet. Can you guide us to any organizations or companies that might consider a grant request? … Whatever help and guidance you can give would be appreciated.
They can be contacted at dkastelein@janzteam.com.
Kit Flowers

is executive director of Christian Veterinary Mission (CVM) in Seattle. It "serves to challenge, empower, and facilitate Christian veterinarians to serve God's kingdom work through the profession." Last September, Kit visited the work of CVM in Romania where it has served since the late 1990s, mostly through mobilizing short-term veterinarians and related professionals to share and teach at veterinary schools in Romania. They also host Romanian veterinarians and students in the US and facilitate their learning and information exchange. Kit and his wife, Jan, visited three veterinary schools and informed them of CVM and its goals of integrating their faith with their work. Kit was encouraged as he met with colleagues there and shared with them the challenges and opportunities to express their faith through their profession.
Christine Smith joined the ASA in 2007 after accidentally finding its website. She says, "Perhaps the Spirit led me to it!" The ASA has challenged her in many ways and helped her to <![if !vml]>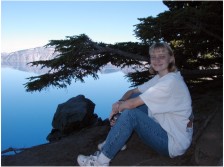 <![endif]>articulate and refine her perspectives on science and religion. She says, "I think the greatest lesson I have learned so far, is that until I found ASA, I never realized how much I didn't know about faith and science."
Christine received a BS in geology with a minor in geography from Arizona State University in 2004 and an MS in Environmental Management from the University of Houston in 2006. She has worked for the Houston-Galveston Area Council, a regional planning agency, to do air quality modeling in the transportation sector for regulatory purposes. In 2008, she became a senior planner and has been involved in the Clean Vehicles, Clean School Bus, and Clean Cities programs. These programs grant funds to those interested in many areas which can be upgraded to cleaner technologies. Recently, Christine was promoted to Air Quality Coordinator and is very involved in environmental stewardship. She is married to Kendall, and they have two rescue dogs, Sandy and Maple. We congratulate Christine on her promotion, and we are so glad she is a member for we will learn from her insights just as she has learned from us.
Science and Theology Focus at Seminaries
Last October a Science and Theology Focus began at Pittsburgh Theological Seminary to provide vital leadership to and for pastors. They are undertaking a nationwide search for 15 pastors to meet for two years of seminars with leading theologians and scientists. Interested parties may contact Susan Kendall at (412) 441-3304 ext. 2112 or doctorofministry@pts.edu. On Jan. 25–29, Peter Hess, Faith Project Director of the National Center for Science Education, will speak on "Science and Theology: History and Theological Methods."

The John Templeton Foundation will support the new Science for Ministry Institute which began last November at Princeton Theological Seminary. This program will help people in ministry talk about science with their congregants by providing effective science education programs and resources. J. Wentzel van Huyssteen, the James I. McCord Professor of Theology and Science at the seminary and the co-director of the institute, says "We want to address a common experience of ministers and scientists of faith who struggle to develop a constructive dialogue around issues of theology and science in their ministry contexts." Learn more at www.ptsem.edu/scienceforministry.
Larry Funck of the chemistry department of Wheaton College is now the chief reader for Advanced Placement (AP) chemistry. He would encourage any ASA members who are chemistry teachers to consider volunteering to read exams in the AP program. The reading takes place in June over seven-days. This year it will be at an ocean-front resort in Daytona Beach, FL. Approximately 270 teachers, 50% college and 50% high school, will grade the "free response" section of about 110,000 exams that have been completed by high school students in "college equivalent" courses. Larry says, "I have yet to meet anyone who enjoys grading exams." Rather, it is the opportunity to interact with like-minded colleagues in an effort that is beneficial to the profession and to the many students who expended the time and effort to write the exams. Interested teachers can obtain application forms from the AP Central website http://etscrs.submit4jobs.com/index.cfm?fuseaction=85332.viewjobdetail&CID=85332&JID=78006&notes_id=2 or by emailing larry.l.funck@wheaton.edu.
One of the ten best-selling science books for 2009 on Amazon.com is Stephen C. Meyer's Signature in the Cell. As a leader of the Discovery Institute, the author describes the book as an attempt "to make a comprehensive, interdisciplinary argument for a new view of the origin of life." Picking up on Richard Dawkins' statement, "Biology is the study of complex things that appear to have been designed for a purpose" and Francis Crick's comment that biologists must "constantly keep in mind that what they see was not designed, but rather evolved," Meyer argues that the "apparent design" within nature is genuine design by an intelligent Agent. He quotes origin-of-life researcher Bernd-Olaf Kuppers saying, "The problem of the origin of life is clearly basically equivalent to the problem of the origin of biological information," which Meyer calls "the DNA enigma." He cites Richard Dawkins' statement, "The machine code of the genes is uncannily computer-like" and Bill Gates' observation, "DNA is like a computer program but far, far more advanced than any software ever created."
In 508 pages of text and 87 pages of notes and bibliography, Meyer analyzes the gene's information content from various aspects, including chance elimination and pattern recognition. Pointing out that the vocabulary of modern molecular and cell biology includes expressions such as "genetic code," "genetic information," "transcription," "signal-transduction circuitry," "feedback loop" and "information-processing system," Meyer construes this as a tacit recognition of what he calls a "metaphysics of intention," an acknowledgement that such features were originated for a purpose.
William Dembski

entitles his newest book The End of Christianity. He explains, "… my title, End of Christianity involves a play on words—'end' can refer to cessation or demise; but it can also refer to goal or purpose. I mean the latter, as the subtitle makes clear: 'Finding a Good God in an Evil World.'"
As the newly-elected vice president of the Evangelical Philosophy Society, Dembski attempts to resolve how the Fall of Adam could be responsible for all evil in the world, both moral and natural, "if the earth is old and thus if a fossil record that bespeaks violence among organisms predates the temporal occurrence of the Fall." He argues that, as the salvation that Christ purchased at the cross retroactively redeemed the Old Testament saints, "so too the effects of the Fall can go backward in time." He sees the question of how future events can influence past events as at the heart of the debate between young- and old-earth creationists. He concludes that evil is never purposeless: "God uses evil to bring us to our senses by making us face the consequences of our rebellion against God." In conjunction with the book, there is a $5,000 video contest, running from January 4 through April 5. Details are at www.godornot.com.
As a result of a major grant from the Templeton Foundation in 2003, the Pontifical Council for Culture began a project at the Vatican called "Science, Theology, and the Ontological Quest" (STOQ). The April 1, 2009 Templeton Report noted, "As a result, six of the pontifical universities in Rome, where most Cardinals and other Church leaders receive training, have incorporated more science into their curricula and have initiated extensive dialogues on how Catholic theology should approach modern science." In March, a five-day conference titled "Biological Evolution: Facts and Theories" was held in Rome under STOQ auspices. It drew around 200 folk from around the world and included prominent speakers in evolutionary biology. The Times of London said that the "Vatican has rejected the claim by Richard Dawkins, the biologist and campaigning atheist, that evolutionary theory proves that God does not exist."
Pope Benedict XVI recently appointed Francis Collins to the Vatican's Pontifical Academy of Sciences. This academy was founded in 1603 and claims to have been the "first exclusively scientific academy in the world." Its 80 members, who include many Nobel laureates, meet for a plenary session at the Vatican every two years.
Chuck Paul introduced himself in a recent letter to Randy Isaac:
<![if !vml]>
<![endif]>My profession is remote sensing, geodesy, and photogrammetry, and I spent my entire working career on every continent (including Antarctica) mapping resources and topography. My most memorable years were spent in Africa, South and Central America, the Middle East, and southeast Asia working with professionals in mapping their resources and developing geographic information systems to assist their governments to develop economically in sustainable ways.
After 40 years of applying science to human needs, Chuck was attracted to ASA "because I felt that I needed a more intellectual and spiritual component of the sciences. I particularly enjoy the journal just because it does focus on the intersection of science and theology."
While working in Africa, he received an invitation from the Pontifical Academy of Sciences to present a paper on his work. He and his wife had a private audience with Pope John Paul II and persuaded the Pope and the Vatican to conduct a second meeting dealing with the applications of satellite remote sensing to agricultural production. He hopes to present a paper related to his work at a future ASA Annual Meeting.
The Journal of Interdisciplinary Studies XXII is calling for papers on "Intelligent Design & Artificial Intelligence: The Ghost in the Machine?" They are due March 1, 2010. Oskar Gruenwald is the editor of this journal. The Institute for Interdisciplinary Research (IIR) is also having a symposium titled "The Idea of a University: From John Henry Newman to the Multiversity & Beyond" at the Hilton in Pasadena, CA, from August 5–8. This interdisciplinary symposium brings together scholars from a wide range of disciplines and denominations who take both scholarship and faith seriously. Abstracts (250 words) are due June 1. Send to Oskar at 1065 Pine Bluff Dr., Pasadena, CA 91107 or info@JIS3.org. Conference web: www.JIS3.org/symposium2010.htm.
Welcome, New Members! October–November 2009
Ane, Jean-Michel M. –Madison, WI
Applegate, Kathryn –San Diego, CA
Arnold, Harold E. –Marion, AL
Baart, Joan L. –Kandern, Germany
Carter, David A. –San Angelo, TX
Glover, Gordon J. –Laurel, MD
Guenther, Daniel E. –Ellensburg, WA
Guta, Mihretu P. –Arcadia, CA
Karlsgodt, Brandon –Vancouver, WA
Kishbaugh, Tara L. –Harrisonburg, VA
Lee, Hye-Ram –Durham, NC
Miller-DeBoer, Carrie J. –Norman, OK
Nettles, William G. –Jackson, TN
Smith, Douglas –Millington, TN
Tretina, Kyle –Wheaton, IL
Warrington, Sarah J. –Memphis, TN
Wennberg, Kjell E. –Katy, TX
Congratulations, Long-time ASA Members!
Celebrating 65 years of membership
Robert B. Fischer
Celebrating 60 years of membership
James O. Buswell III
Lawrence H. Johnston
Norman L. Loux
Celebrating 55 years of membership
Eugene C. Jekel
James L. Kroon
Richard A. Lane
Dale Swartzendruber
Celebrating 50 years of membership
Paul G. Bartels
David F. Siemens Jr.
James W. Sire
James A. Stoddard
William L. Taylor
Gordon J. VanWylen
Jan. 9. ASA OK-TX chapter meeting, 1:00–3:00, at Star Pizza, 77 Harvard, Houston, TX. For details, contact scottandpennyhouston@comcast.net.
Jan. 9–25. Seminar at Sea Caribbean Cruise combining biblical scholarship with a vacation! Sponsored by the Biblical Archaeological Society. Call (800) 221-4644, ext 208. www.biblicalarchaeology.org/travelstudy.
Jan. 21. ASA Wheaton-Chicago chapter. Speaker: James Sire, emeritus editor of InterVarsity Press and author of more than 20 books. The fifth edition of his best-selling classic The Universe Next Door was recently released, including a new chapter on Islam. Wheaton C. dining hall North Party Room. RSVP: recarlson@wowway.com.
Jan. 24–31. Caribbean Cruise and Lecture Series., "Exploring Babylon and the Bible; Connections and Contrasts." Biblical Archaeology Society. See above website and phone number.
Jan. 25–29. Peter Hess will speak at Pittsburgh Theological Seminary on "Science and Theology: History and Theological Methods." For information, call (412) 441-3304, ext. 2112.
Jan. 28. "Signature in the Cell" event, A La Carte Pavilion, Tampa, FL, 7 p.m. Speakers: Stephen Meyer, Tom Woodward, David Berlinski and talk show host Michael Medved. Details and tickets at www.apologetics.org and www.bayword.com.
Feb. 1–16. "Incomparable Israel: Explore the Past, Celebrate the Present," Biblical Archaeology Society Tour. See above website and phone number.
Mar. 12. Science Museum of Minnesota opening the exhibition of "The Dead Sea Scrolls and the St. John's Bible."
May 6–7. "Spirituality: The Invisible Ingredient in Health and Healing," Providence Health Care of Vancouver, BC. Coast Plaza Hotel. To register call (919) 660-7556, Center for Spirituality, Theology and Health, Duke U. dukespiritualityandhealth@gmail.com.
June 16–18. "Religion and Health: Interdisciplinary Engagement and Interpretation," 3rd Annual Meeting of the Society for Spirituality, Theology & Health, R. David Thomas Executive Conference Center, Duke U. Contact: (919) 660-7556 or dukespiritualityandhealth@gmail.com.
July 30–August 2, 2010
The Catholic University of America
Washington, DC
July 29–August 1, 2011
North Central College
Naperville, IL
Jointly hosted by North Central and Wheaton Colleges
With the Chapters
Several venues in Texas have hosted ASA chapter meetings. The Houston-area chapter discussed "Stewardship of Creation" at its November 14 meeting. The Texas A&M area group featured William Dembski discussing Intelligent Design at its November 12 meeting.
On October 13, the Baylor chapter heard Walter Bradley lecture on "Christian Faith and Science: Friends or Foes?" and on October 22 they viewed the Privileged Planet video.
Oral Roberts University faculty held a fall seminar series in Tulsa, covering topics of "The Other Creation Accounts of the Bible," "The Message of the Genesis Creation Account," "Seeing God, Facing Evil: Theodicy and Christian Imagination," "It Ain't Over 'Til It's Over: A Theodicean Reading of Romans 9–11," "Language and the Myth of Scientific Objectivity," and "God, Science and Poetry: the Necessity of Imaginative Rationality." * Scott and Penny Robinson
The Chicago-Wheaton chapter featured two Wheaton professors at its most recent meetings. Old Testament professor John Walton spoke at the September 24 meeting, presenting an

<![if !vml]><![endif]>

alternative interpretation of Genesis 1. As he studied the literature of other ancient Middle Eastern cultures, he realized that their major emphases were not on God making anything, but rather on God organizing it, "separating, ordering, giving jobs to things." Extending this paradigm to the biblical text, he interpreted the early chapters of Genesis not as God creating matter, but as God causing it to function.
"Stem Cell Therapy Is on Its Way—How Will It Affect You?" was Rodney Scott's topic at the November 12 meeting. After reviewing stem cell basics (differences between adult and embryonic cells), he addressed stem cell ethics and politics, and recent advances. He predicted that most therapeutic uses are still decades in the future, and that both embryonic and adult stem cells will be used for research and medicine. Therefore, Christians need to respond to the challenges presented by various types of reproductive biotechnologies. Pointing out that some of his students are children born by in vitro fertilization, he emphasized one blind spot that some Christians have: Producing "test tube babies" usually involves producing and discarding surplus embryos, yet Christians object less strenuously to this than to destroying embryos in stem cell research.
ASA Abstract Submission Deadline
February 15, 2010
Submit online at www.asa3.org. Follow the link to the 2010 ASA Annual Meeting.
The Newsletter of the ASA and CSCA is published bimonthly for its membership by the American Scientific Affiliation. Send Newsletter information to the Editors: David Fisher, 285 Cane Garden Cir., Aurora, IL 60504-2064. E-mail: dfisherasa@comcast.net and Margaret Towne, 8505 Copper Mountain Ave., Las Vegas, NV 89129. E-mail: TowneMG@aol.com. Both receive e-mail through asan@asa3.org
Please send Canadian matters to: CSCA, PO Box 63082, University Plaza, Dundas, ON, Canada L9H 4H0.
Send address changes and other business items to the American Scientific Affiliation, PO Box 668, 55 Market St., Ipswich, MA 01938-0668. Phone: (978) 356-5656; FAX: (978) 356-4375; E-mail: asa@asa3.org; Web site: www.asa3.org
©2010 American Scientific Affiliation (except previously published material). All rights reserved.
Editors: David Fisher, Margaret Towne
Managing Editor: Lyn Berg