in Washington, DC, which is our national capital and has many interesting places to visit:
ASA TOURS - Thursday & Friday (July 29 & 30), information is in the ASA Annual Meeting Brochure
TOURISM - Official - The District - ASA - Smithsonian - Wikipedia - Top 10 - National Park Service - Planetware
MAPS - whole city - overview - interactive - museums - with flags - printable - map-links - Mapquest
PHOTOS - ASA Slide Show (DC photos are in 2nd half) - 1 - 2 - 3 - 4 - 5 - 6 - 7 - 8 - virtual 360° tours
ASA's Slide Show will help you imagine how great a trip to Washington D.C. might be — to share in the intellectual stimulation and spiritual fellowship of the ASA meeting, plus the fascination of exploring our nation's capital city — so you can decide whether to say "yes" for this adventure.


CUA Campus — ASA Registration and other Meeting-Locations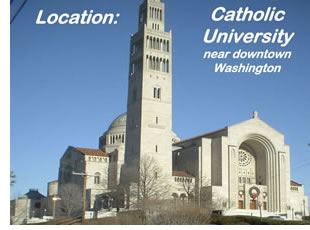 Here is a campus map & directory showing locations for the ASA Meeting — for Registration, Dorms, Meetings, and Field Trip Transportation.
The ASA Registration Center is on the campus of Catholic University (CUA). Thursday (2:30-9:30 pm) and Friday (9:30 am - 9:00 pm) it's in Flather Hall, but Saturday & Sunday it moves to the Pryzbyla Center. After you arrive at CUA, you can get to Flather Hall by using the directions below for driving or riding Metro. If you arrive later, Saturday or Sunday, you can get detailed directions to the location for most conference events, at the Pryzbyla Center:


DRIVING
PLEASE HELP OTHERS TRAVEL TO THE CONFERENCE, and PLEASE USE THE RIDE BOARD ASAP.
If you're driving from home (or airport) and you can offer SHARED TRAVELING to others who are attending, this will be greatly appreciated. And please post your information on the Ride Board as soon as possible, because this might help others make their plans. For example, if they can ride with you, they may do this instead of buying a ticket for bus, train, or plane. But if they don't know you're driving until they already have bought their ticket (and usually the sooner a ticket is purchased the cheaper it is, and more scheduling options will be available) so if you post your "ride offered" information ASAP this might be very helpful for someone. Thanks! :<)
How do you get to Catholic University of America (CUA) and then the ASA Registration Center in Flather Hall? Use these driving directions provided by CUA from the west (I-66), south (I-95), East (Rt 50), northwest (I-70 to I-270), or north (I-95 to I-495) plus a campus map (a printable PDF map and a web-interactive map that shows the nearest parking lot at G7); after the end of CUA's directions (which lead you to campus on 4th St) you'll turn right onto Michigan Ave, then left on McCormack, and turn left into the parking lot immediately after Millenium North. Or you can type the address of Millenium North (==== this will be available soon) into your GPS navigation system, or use this address in a map service: Mapquest or Google Maps or Rand McNally or... You can also check these directions with more detail but they take you to Pryzbyla Center, where ASA Registration is Saturday & Sunday; before this, Thursday or Friday, you should go to Flather Hall.
SHARED TRAVELING by using the RIDE BOARD
Shared Traveling will help you conserve energy and money.
ASA's RIDE BOARD will help you find partners for shared traveling. Without logging on (so it's fast and easy) you can REQUEST A RIDE or OFFER A RIDE.

METRO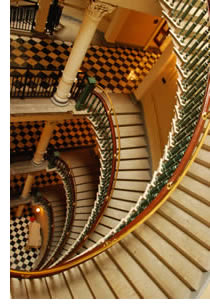 The homepage for Washington Metropolitan Area Transit Authority (WMATA) has links for maps (interactive - printable - iPod) and fares, Rider Tools, tips for Getting Around (in a "New to Metro" FAQ) and more.
Traveling from DCA to CUA, here are excellent detailed directions to make your trip easier.
To reach Catholic University of America, take a train on the RED LINE (from most locations you'll travel in the Glenmont-direction) and get off at the Brookland-CUA station; when you exit the turnstiles, go left and when you reach the top of the escalator you'll be on John McCormack Road (which runs parallel to the train) at Michigan Ave (as you can see on the campus map of CUA - look for "M"), then walk north to Millenium North, and turn left to reach Flather Hall (at F7 on the map) for ASA Registration.
BUS — TRAIN — PLANE
GREYHOUND BUS and LOCAL TRANSPORTATION — If you live fairly close, or if you'll arrive early to visit a nearby city, one option is Greyhound Bus which has cheap fares, especially if you book ahead 7, 14, or 21 days. The bus station (1005 1st Street NE) is 2.6 miles from Catholic University, and you can travel there quickly with Metro by using their Metro Trip Planner to go from "greyhound-dc" to "cua m" by using rail (.5 mile walk to station, $1.75) or bus (.2 mile walk to bus, $1.45). / two examples of Greyhound's lowest one-way fares: to Washington DC from Philadelphia (4 hours, $20), or from Raleigh, NC (6 hours, $46), double the cost for round trips.
TRAINS — If you live fairly close, or if you'll arrive early to visit a nearby city, another option is Amtrak which also has cheap fares, especially if you buy 2 weeks ahead. Amtrak takes you to Union Station, only 3 rail stops from Brookland-CUA on the Red Line of Metro. / two examples of Amtrak's lowest one-way fares: to Washington DC from Philadelphia (2 hours, $35), or from Raleigh, NC (6 hours, $46, same as Greyhound), double the cost for round trips.
AIRPLANES and LOCAL TRANSPORTATION — The three main airport options are Ronald Reagan Airport (DCA) aka Washington National Airport, and Dulles International Airport (IAD), and Baltimore-Washington International Airport (BWI). All offer competitive fares; check the usual booking services (Travelocity, Expedia,...) and airline-websites (for Southwest, American, Delta, United,...). For more information about airports, check ifly.com (DCA - IAD - BWI) or use Wikipedia and search for each code: DCA, IAD, BWI. / For local transportation options from each airport to Catholic University of America, begin with CUA's travel information and then check these links: from DCA, Metro (DCA-Ronald Reagan is south-center on the map, and click the link for "detailed directions") — from IAD, Washington Flyer & Metro (West Falls Church is near west end of Orange Line) — from BWI, MARC Train (weekdays) & Metro (MARC & Amtrak take you to Union Station, on the Red Line only 3 stops from Brookline-CUA) & Amtrak (weekend) & other options — and from IAD or BWI, Super Shuttle (zip code for CUA is 20064).

FOR THE RETURN TRIP from Catholic University to your airport (or other places?) at the conference there will be a physical Sharing-Board where you can write your information and requests.

---
---