---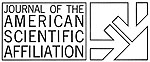 Science in Christian Perspective
Letter to the Editor
No Moral Basis for Abortion
Jean Moore
3907 N. Pershing Arlington, Va. 22203

From: JASA 25 (December 1973): 168.

I have a few comments on some of your articles in Journal ASA 25, June (1973). First, perhaps Mr. Shaeklett should read Jeremiah 2 with particular emphasis to verse 34, also Romans 8 with emphasis on verse 28, remembering a child's coming into the world is one of the things which do work "together for good to them that love God." Therefore, a Christian has 00 moral basis for having an abortion. The Christian woman who has an abortion is only showing a lack of spiritual growth and trust in the Lord. (These references could also apply to most of your other articles in this issue, especially the one by John B. DeHoff.)

As for brotherly love, Paul wrote I Corinthians 13, but he also wrote Romans and II Thessalonians (note II Thess. 3:14, 15).
---