---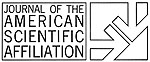 Science in Christian Perspective
JASA BOOK REVIEW For September 1964.


A STRESS ANALYSIS OF A STRAPLESS EVENING GOWN AND OTHER ESSAYS FOR A
SCIENTIFIC AGE edited by Robert A. Baker. Prentice-Hall, xvi., Englewood Cliffs, N. J., 1963. xvi, 192 pp., $3.95.
This "amalgam of satiric science and scientific satire" by scientists and literary men lampoons the fads and foibles of our day. The 32 essays and poems demonstrate that "as a group, scientists have a fresh, sensitive and highly developed sense of humor." Four criteria governed their selection: they have entertainment value, expose inanities of our age from a future perspective, make masterful use of parody, and/or expose pitfalls and frustrations of scientific research. In so doing they strike a blow against the cult of scientism and against dehumanized, power-drunk scientists who "forget that science is public property" and that it has a mission which, though mighty, is not almighty.
The reader will find among the contents an exposure of the neurotic conflicts of missiles, a firm scientific basis for the ladies' garment industry (the title essay), proof that the Abominable Snowman is a Chinese Communist, Parkinson's Law for Medical Research, archaeological findings during the excavation of the Weans (the land of the We, or Us) 5,000 to 6,000 years hence with interpretations of the institutions and people of such places as n. Yok, Cha'ago, O'leens, and Boxton, a description of "body ritual among the Nacirema" (spell the word backwards!), and even a scientific calculation demonstrating that the average net working time of a scientist during his entire lifetime totals 0.25 years or about 90 days.
If you enjoy humor, you will enjoy this book. But like me you may have mixed feelings about certain details. Among them are two modern versions of the Twenty-Third Psalm. They begin, "The Lord is my external-internal integrative mechanism," and "The AEC is my shepherd; I shall not live." When does "religious" humor become an irreverent, blasphemous form of casting pearls before swine?
"Today, thank God, it is still not unscientific to laugh!" -Reviewed by David 0. Moberg, Chairman and Professor of Sociology, Dept. of Social Sciences, Bethel College, St. Paul, Minnesota.
---